The Coast
In Sainte-Flavie, discover 120 sculptures that emerge from the River at the Centre d'art Marcel Gagnon. Visit the Reford Gardens with their 3,000 species of native and exotic plants. In Matane, see rock gardens, fruit trees, shrubs and plants in the Jardins de Doris. Take a time out at the maritime lighthouse, home of the Tourist Welcome Bureau. At the port, ferry services are available between Matane, Baie-Comeau and Godbout. The river goes directly through downtown where salmon fishing enthusiasts can enjoy their favorite activity.
The Haute-Gaspésie
At Cap-Chat, you can not miss the tallest vertical axis windmill in the world as well as the 76 windmills of Le Nordais Park as they stand out. Nesled at the hollow of a cove, Sainte-Anne-des-Monts is an excellent example of a marriage between the sea and the mountains and proudly opens the gate to the Parc national de la Gaspésie. Visit Exploramer, a scientific activity complex focusing on the marine environment and presenting an aquarium and a museum, as well as offering sea excursions.
At Sainte-Anne-des-Monts, you access the splendid Parc national de la Gaspésie, via Route 299. This park is ideal for hikers of all levels. The tablelands, where you find flora and vegetation similar to those found in the toundra, are home to a caribou herd. 17 km south of the Gîte du Mont-Albert, you will find the Mont Lyall agate mine. Prospect this open-pit mine and seek for magnificent geodes.
The Bay
Because of its tremendous beauty and its exceptional quality, the Chaleur Bay is part of the Most Beautiful Bays in the World Club. Protected from the wind, the bay offers a microclimate resulting in warm waters. Now is the time to go for a swim and relax on the long beaches. At Carleton-sur-Mer, see the Oratoire Notre-Dame-du-Mont-Saint-Joseph, on the top of Mont Saint-Joseph (555 m). Entering Maria, you will see the wigwam-shaped church of the Gesgapegiag Micmac community. You must visit The Battle of the Ristigouche National Historic Site which commemorates the last naval battle between France and England in 1760. The Parc national de Miguasha, a UNESCO World Heritage Site, preserves a fossil rich cliff with a worlwide reputation since its discovery in the 1800s.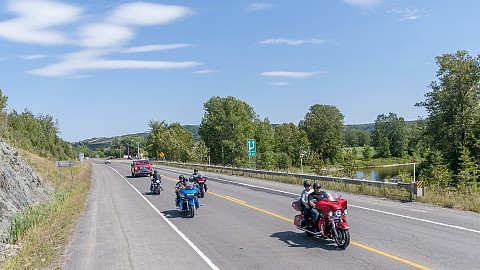 Photo : Tourisme Gaspésie - LP Cusson
The Valley
The beautiful Matapédia Valley is a preferred destination to ride along the Matapédia River, renowned worldwide for its salmon quality.
Allow yourself plenty of time to fully enjoy this natural haven of peace of the Plateaux panoramic circuit. visit magnificent lookouts and enjoy a very interesting stay by leaving Route 132. At Causapscal, it is quite surprising to see salmon fishermen directly downtown. Take a walk on the Les Berges et Les Mémoires trails. Located on the shore of the Matapédia Lake, Val-Brillant offers a breathtaking setting with its magnificent sunsets.
Close
Add to my favorites
Activities

of this circuit
20 Results
La Savonnerie du Village - Économusée de la savonnerie

The Chaleur Bay

36, route d'Escuminac Flats

Escuminac, Québec

G0C 1N0

Auberge de la rivière Matapédia

The Matapédia Valley

726, chemin du Rang A

Routhierville, Québec

G0J 2A0

Oblivio Spa

The Coast

250, avenue du Phare Est

Matane, Québec

G4W 3N4

Aventure Pattes Blanches

The Coast

2755, 4e Rang Est

Saint-Ulric, Québec

G0J 3H0

Centre d'art Monique et Gisèle Benoit

Haute-Gaspésie

218, 1re Avenue Est

Sainte-Anne-des-Monts, Québec

G4V 1A3

Pourvoirie Fournier Plein Air

130, 1er rang Nord

Saint-Vianney, Québec

G0J 3J0

La Chute à Philomène

The Matapédia Valley

Rang Saint-Louis

Saint-Alexandre-des-Lacs, Québec

G0J 2C0

Quai des Bulles

The Chaleur Bay

584, boulevard Perron

Carleton-sur-Mer, Québec

G0C 1J0

Nathalie Dumouchel Céramiste

Haute-Gaspésie

520, 1re avenue Ouest

Sainte-Anne-des-Monts, Québec

G4V 1H4

The Maison Hélios

The Coast

458, route de la Mer

Sainte-Flavie, Québec

G0J 2L0

Matane, destination gourmande de la crevette

The Coast

La Matanie
Matane, Québec

Village Grande Nature Chic-Chocs

Haute-Gaspésie

951, route Saint-Octave-de-L'Avenir

Cap-Chat, Québec

G0J 1E0

Serpent à Plumes

The Chaleur Bay

756, boulevard Perron

Carleton-sur-Mer, Québec

G0C 1J0

Bahut de la Matanie - Centre de métiers des arts traditionnels

The Coast

654, avenue du Phare Est

Matane, Québec

G4W 1B1

Museums and historic sites

Société d'histoire et de généalogie de Matane

The Coast

320, boulevard Dion

Matane, Québec

G4W 3M1

Traverse Matane - Baie-Comeau - Godbout

The Coast

1410, rue de Matane-sur-Mer

Matane, Québec

G4W 3P5

Museums and historic sites

Vieux moulin - Vin de miel

The Coast

141, route de la Mer (route 132)

Sainte-Flavie, Québec

G0J 2L0

Parc régional de Val-d'Irène

The Matapédia Valley

115, route Val-d'Irène

Sainte-Irène, Québec

G0J 2P0

Circuit de fresques, des arts et du patrimoine, Les Murmures de la Ville

The Coast

1588, boulevard Jacques-Cartier (Château Landry)

Mont-Joli, Québec

G5H 1W8

Ateliers Plein Soleil, Économusée du tissage

The Coast

1564, boulevard Jacques-Cartier

Mont-Joli, Québec

G5H 2V8