La Mitis
In Mont-Joli, you find the most important airport in Eastern Québec; then downtown, follow the mural tour, and go back in time. In Sainte-Flavie, a stop at the wharf promenade is a must. Then, keep going east and discover at Centre d'art Marcel Gagnon, 120 sculptures that emerge from the River. Visit also the magnificent Reford Gardens and discover their 3,000 species of native and exotic plants presented in 18 gardens.
Saint-Ulric
Ride through a majestic and spectacular scenery of windmills in Saint-Ulric and appreciate their gigantic size compared to you! This village also offers the fabulous Blanche River, the Parc des Rives, the Vignoble Carpinteri (vineyard), the covered bridge and the Chutes à Ti-Mé (the Ti-Mé falls).
Matane
In the Jardins de Doris, discover the rock garden, fruit trees, shrubs and plants. Take a time out at the maritime lighthouse, home of La Matanie Tourist Welcome Bureau. At the port, ferry services are available between Matane, Baie-Comeau and Godbout. The river goes directly through downtown where salmon fishing enthusiasts can enjoy their favorite activity.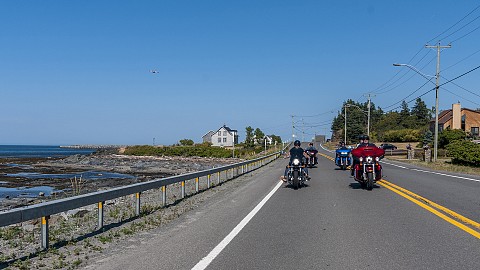 Photo : Tourisme Gaspésie - LP Cusson
From Matane, take Route 195 to get to the Matane Wildlife Reserve. This road also leads to the Saint-René-de-Matane covered bridges.
Going further, at the crossroads of Route 132 and Route 195, Amqui offers two other covered bridges and the park Pierre-et-Maurice-Gagné
.
To complete this circuit, take Route 132 via Val-Brillant and the Matapédia Lake, and you come back in Mont-Joli.
Close
Add to my favorites
Activities

of this circuit
11 Results
Bahut de la Matanie - Centre de métiers des arts traditionnels

The Coast

654, avenue du Phare Est

Matane, Québec

G4W 1B1

Aventure Pattes Blanches

The Coast

2755, 4e Rang Est

Saint-Ulric, Québec

G0J 3H0

Museums and historic sites

Société d'histoire et de généalogie de Matane

The Coast

320, boulevard Dion

Matane, Québec

G4W 3M1

Pourvoirie Fournier Plein Air

130, 1er rang Nord

Saint-Vianney, Québec

G0J 3J0

Traverse Matane - Baie-Comeau - Godbout

The Coast

1410, rue de Matane-sur-Mer

Matane, Québec

G4W 3P5

The Maison Hélios

The Coast

458, route de la Mer

Sainte-Flavie, Québec

G0J 2L0

Circuit de fresques, des arts et du patrimoine, Les Murmures de la Ville

The Coast

1588, boulevard Jacques-Cartier (Château Landry)

Mont-Joli, Québec

G5H 1W8

Oblivio Spa

The Coast

250, avenue du Phare Est

Matane, Québec

G4W 3N4

Museums and historic sites

Vieux moulin - Vin de miel

The Coast

141, route de la Mer (route 132)

Sainte-Flavie, Québec

G0J 2L0

Ateliers Plein Soleil, Économusée du tissage

The Coast

1564, boulevard Jacques-Cartier

Mont-Joli, Québec

G5H 2V8

Matane, destination gourmande de la crevette

The Coast

La Matanie
Matane, Québec