Gaspésie Multi-Sensory Experiences!
Thorough its scents, textures, landscapes, and multimedia adventures, Gaspésie will awaken all of your senses.
Revel in fascinating immersive experiences through the use of current technologies or in person at natural or historical attractions. Seize the opportunities to attend the spectacular formation of Percé Rock, go on a virtual expedition aboard a fishing boat, or pick stars by the sea and in the heart of the forest! You can also touch little-known marine species, and meet larger-than-life characters who will unveil plots of history.
In constant evolution, Gaspésie will surprise you with its creative genius and its technological daring.
Ready to experience the Multi-Sensory Experiences of the Gaspésie?
Close
6 Results
Mount Lyall agate mine

Haute-Gaspésie

Route 299 (Parc national de la Gaspésie, jonction Lac-Ste-Anne et Murdochville)
Sainte-Anne-des-Monts, Québec

Museums and historic sites

Site historique national Banc-de-pêche-de-Paspébiac

The Chaleur Bay

3e rue, route du Quai

Paspébiac, Québec

G0C 2K0

Museums and historic sites

Musée acadien du Québec

The Chaleur Bay

95, avenue de Port-Royal

Bonaventure, Québec

G0C 1E0

Museums and historic sites

Centre socioculturel Manoir Le Boutillier

Land's End

578, boulevard du Griffon (L'Anse-au-Griffon)

Gaspé, Québec

G4X 6A4

Pêche sportive de la Baie-des-Chaleurs

The Chaleur Bay

645, rue des Hérons

Maria, Québec

G0C 1Y0

Museums and historic sites

Micmac Interpretation Site of Gespeg

Land's End

783, boulevard Pointe-Navarre

Gaspé, Québec

G4X 2V6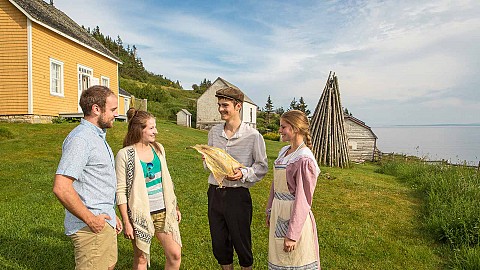 Photo : Mathieu Dupuis
Don't Miss

Gaspésie
My Vacation