Gaspésie Festival and Events!
Gaspésiens are renowned for their sense of celebration.
The list of excellent scheduled shows and events grows each year, as does the emergence of spontaneous festive meetings.
Through enjoying great local beer, witness microbreweries and terraces as they come to life with extraordinary musical discoveries. Feet in the sand, you can attend a festival with big name musical acts, and then continue the experience at evening around a bonfire with an improvised jam! For the early birds: A mystical musical experience awaits you at sunrise...
In Gaspésie, there's always an excuse to celebrate!
Ready to delight in a spectacular holiday?
Close
17 Results
Museums and historic sites

Site patrimonial de pêche Matamajaw

The Matapédia Valley

53 C, rue Saint-Jacques Sud

Causapscal, Québec

G0J 1J0

FromAugust 1st to August 4th

Fête du bois flotté

Haute-Gaspésie

236, 1ere avenue Ouest

Sainte-Anne-des-Monts, Québec

G4V 1A1

FromJuly 24th to July 28th

Fête du Vol Libre

Haute-Gaspésie

102, rue Prudent-Cloutier

Mont-Saint-Pierre, Québec

G0E 1V0

FromAugust 8th to August 10th

Festival Éole en musique

The Coast

Parc des îles
Matane, Québec

Bistro-Bar le Brise-Bise

Land's End

135, rue de la Reine

Gaspé, Québec

G4X 1T5

FromJuly 24th to July 28th

Fort Causap au Royaume du saumon

The Matapédia Valley

1, rue St-Jacques Nord

Causapscal, Québec

G0J 1J0

Museums and historic sites

Gare patrimoniale de Sayabec

The Matapédia Valley

11, route 132 Ouest

Sayabec, Québec

G0J 3K0

FromAugust 8th to August 11th

Festival Musique du Bout du Monde

Land's End

37, rue Chrétien, A-29

Gaspé, Québec

G4X 1E1

FromAugust 15th to August 18th

Shigawake Agricultural Fair and Music Festival

The Chaleur Bay

91, route 132

Shigawake, Québec

G0C 3E0

Théâtre de la Petite Marée

The Chaleur Bay

Salle le Préau, 154 rue Beaubassin (Camping Plage Beaubassin)

Bonaventure, Québec

G0C 1E0

Théâtre de la Vieille Forge

Land's End

4, rue de la Longue-Pointe

Petite-Vallée, Québec

G0E 1Y0

FromJune 27th to July 6th

Festival en chanson de Petite-Vallée

Land's End

4, Longue-Pointe

Petite-Vallée, Québec

G0E 1Y0

FromJuly 25th to July 28th

Festival Country de Matane

The Coast

276, McKinnon

Matane, Québec

G4W 1X6

Wineries, Mead Factories and Microbreweries

Microbrasserie Le Naufrageur

The Chaleur Bay

586, boulevard Perron

Carleton-sur-Mer, Québec

G0C 1J0

Wineries, Mead Factories and Microbreweries

Microbrasserie Pit Caribou

Land's End

27, rue de l'Anse (L'Anse-à-Beaufils) et 182-A route 132 (Percé)

Percé, Québec

G0C 1G0

FromJuly 12th to July 14th

Fête des Guitares du Québec

The Matapédia Valley

36, rue Bouillon

Lac-au-Saumon, Québec

G0J 1M0

Wineries, Mead Factories and Microbreweries

La Fabrique

The Coast

360 et 366, avenue Saint-Jérôme

Matane, Québec

G4W 3B1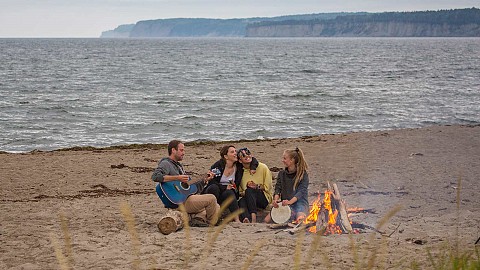 Photo : CHOK Images
Don't Miss

Gaspésie
My Vacation