---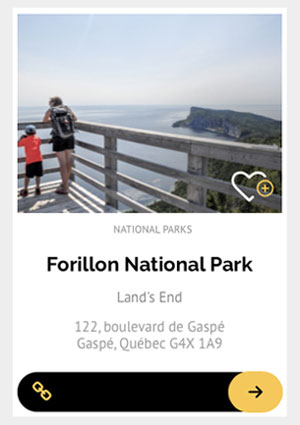 Your Itinerary and Favorites !
Browse our website and click on to add activities, accommodation and restaurants to your favorites list.
It's nice and quick to add items to your itinerary and even more so if these are already in your favorites.
---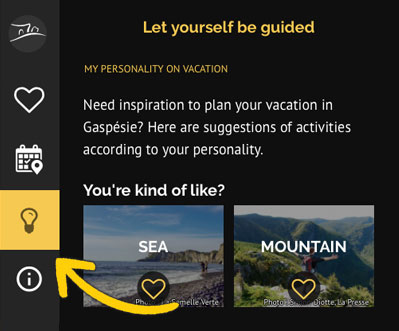 Need Inspiration ?
Click on   and on for suggestions of activities according to your personality.
Add your discoveries to your favorites by clicking on
---

Ready to Start ?
Whether your favorites list is full or not, no problem! You can complete it along the way.
I create my vacation How it Works ?
How it Works ?
Create an Itinerary
If you have not already done, click on and then click on New Itinerary. Then fill in the information and click on Start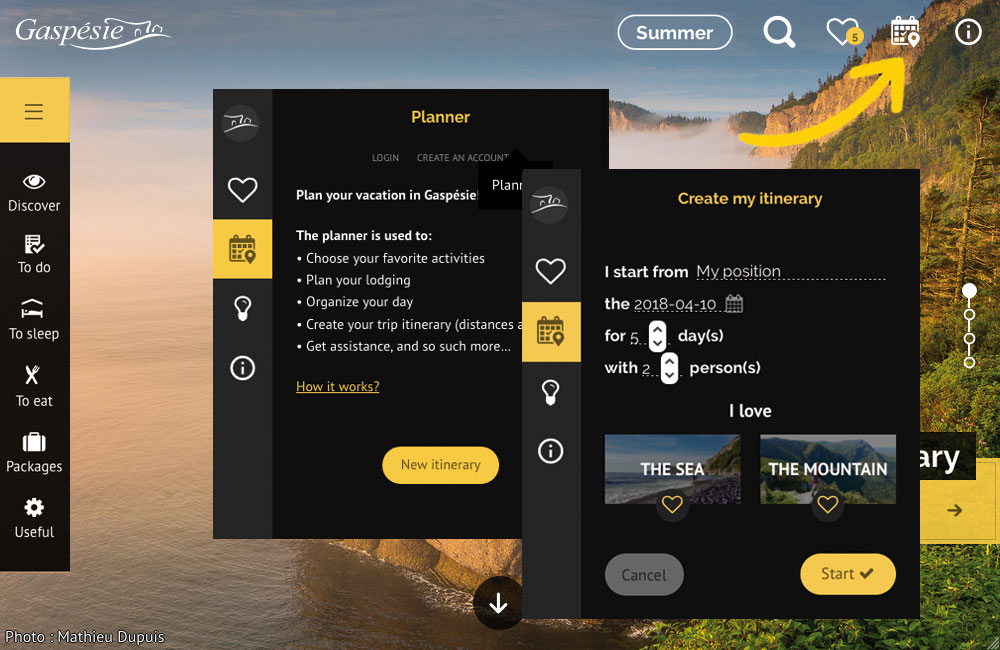 How it Works ?
Add Items
To add an item, click on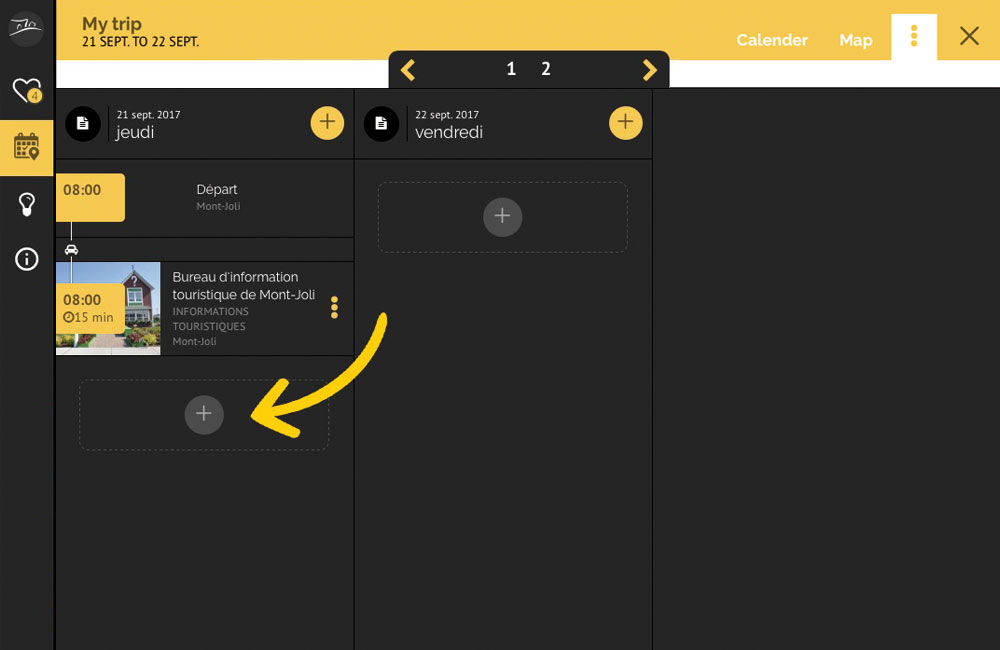 How it Works ?
Add Items
Search by keyword or among your favorites. Then select the item by clicking on and it will be added to your day.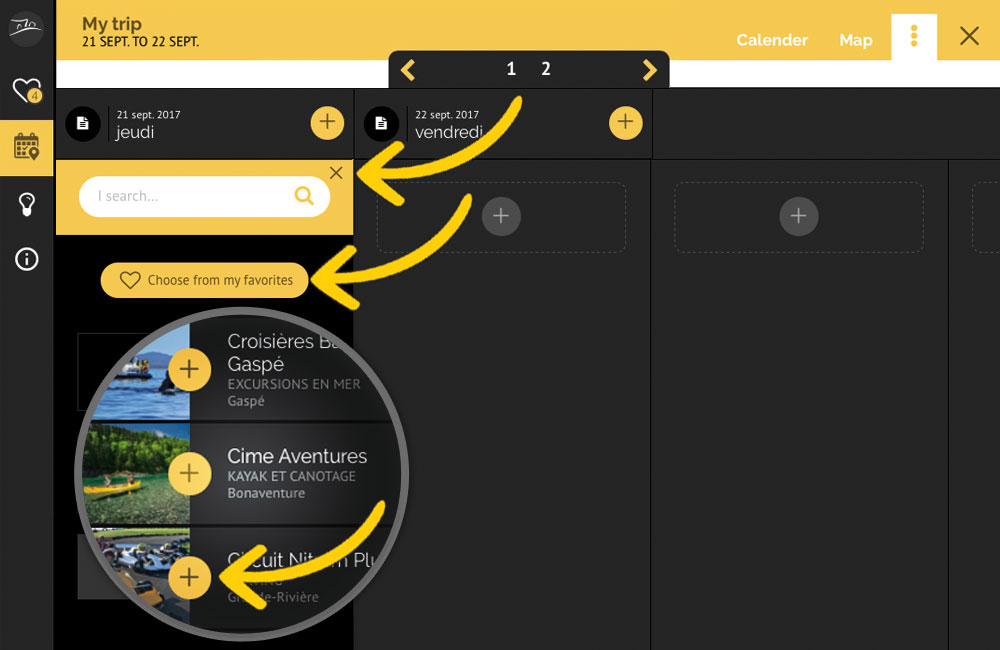 How it Works ??
In Lack of Ideas?
Browse the categories of the site or take a look at the personalized suggestions. Add all your favorite items to your favorites list by clicking on . You can easily add them to your days later.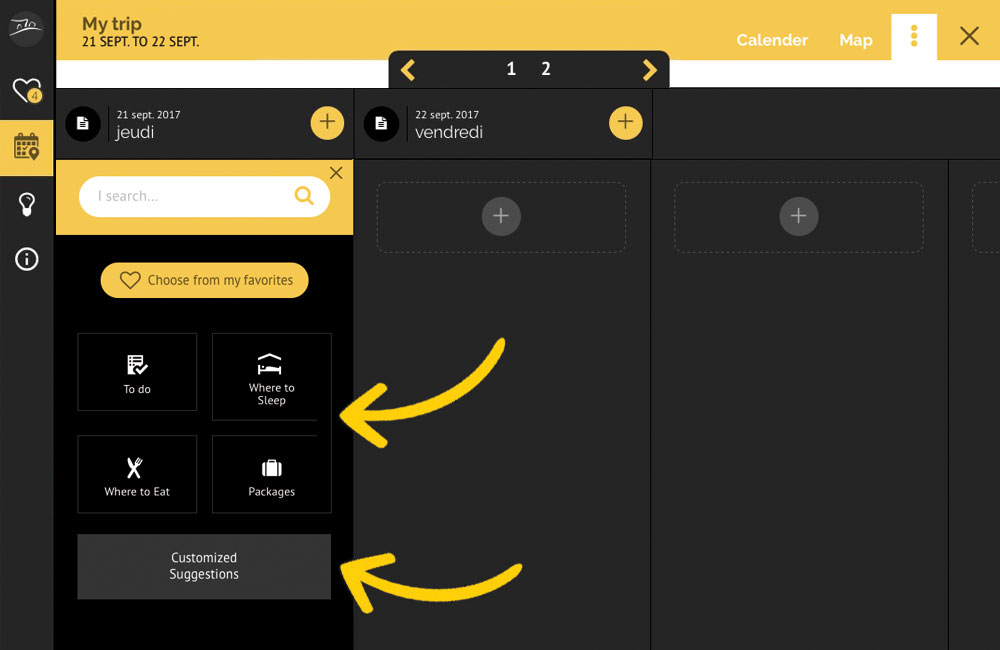 How it Works ?
Distances and Duration
The distances between each item are automatically calculated, in km and time.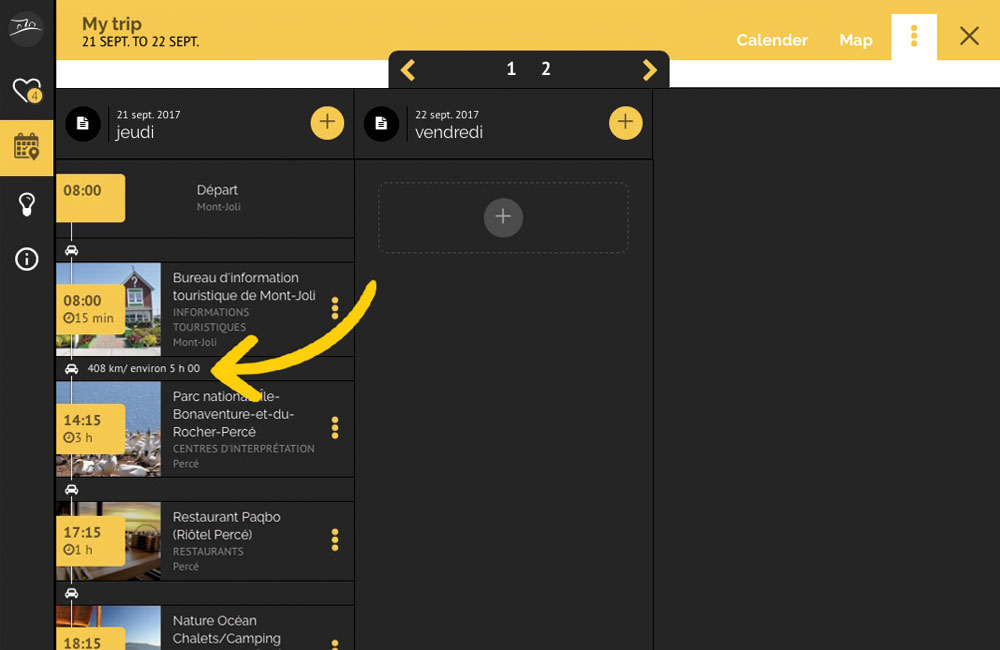 How it Works ?
Move an Item
Change the time and duration of the visit by clicking on the hour box . You can also move the items with your mouse. For an accommodation, check Night and this item will be the last of the day. Be careful not to exceed 24 hours in a day, the items will not be moved in the next day.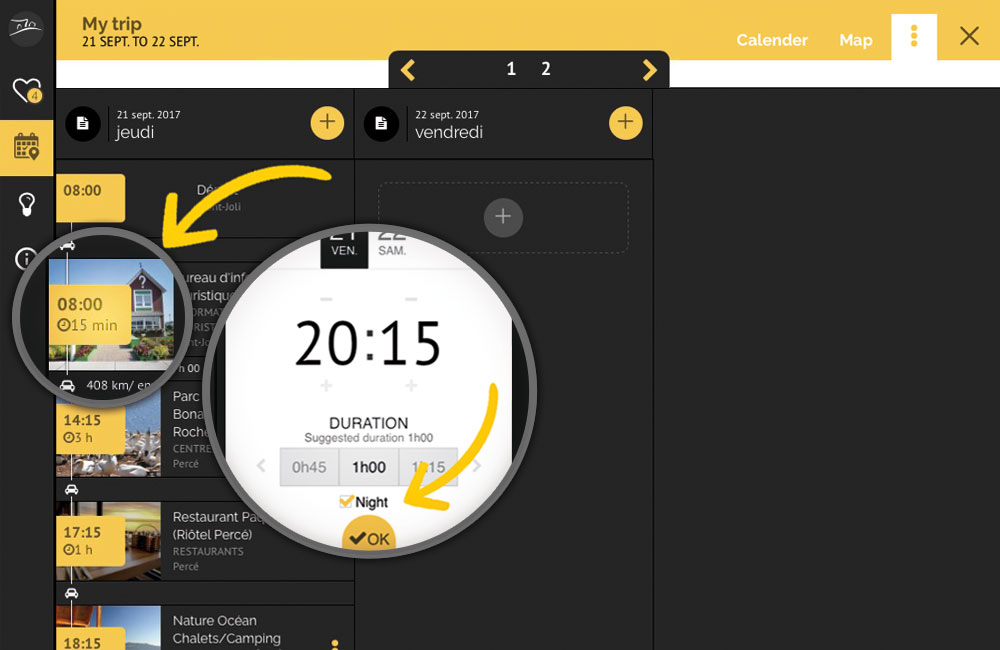 How it Works ?
Manage an Item
Need a place to add your reservation numbers, click on at the top of the day.
Click on to contact the business or to remove the item from your itinerary.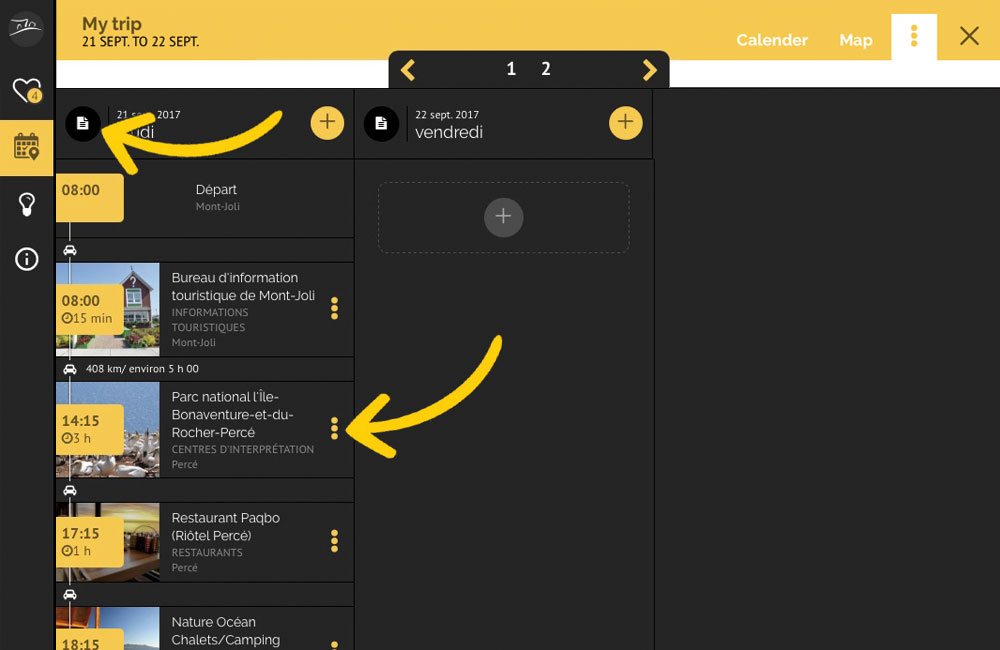 How it Works ?
Information on an Item
Click on the item to get more information about the business.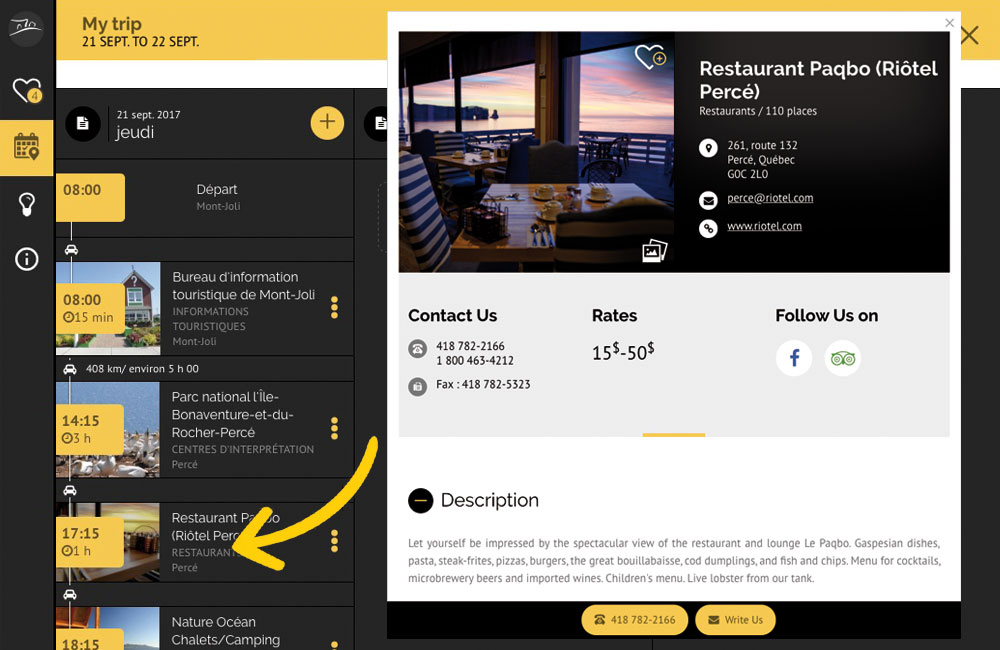 How it Works ?
Map and Itinerary
The Map shows your itinerary. Select a day to discover a more precise itinerary between the items.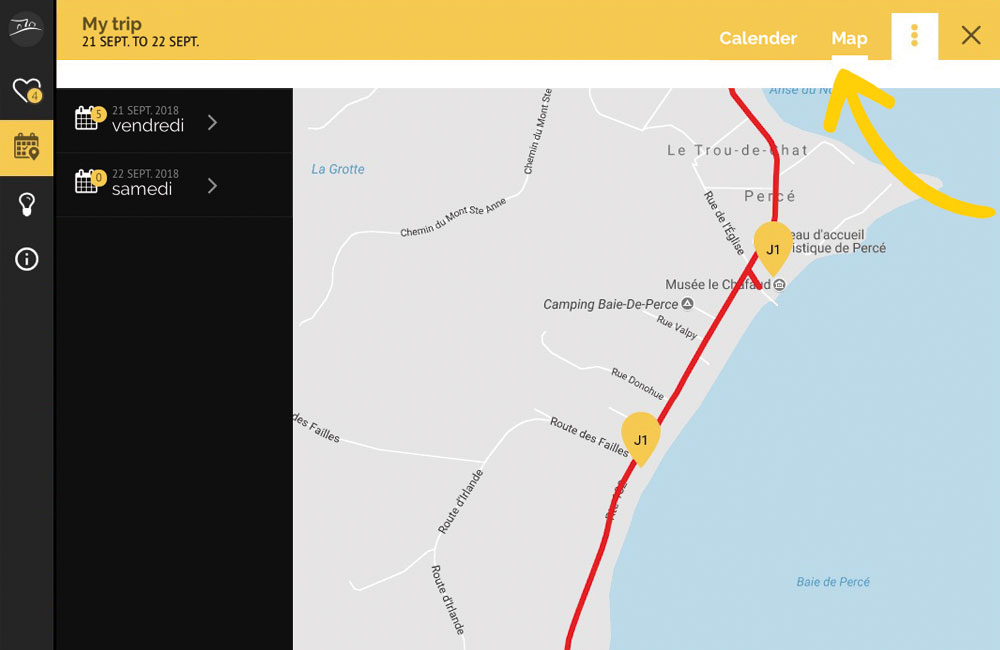 How it Works ?
Other Functions
The tab allows you to name your itinerary, save it, email it, get a PDF copy, create or log in to your account. It is here too that you will find this tutorial. View or edit your itinerary by accessing to your account, even on your tablet or your mobile.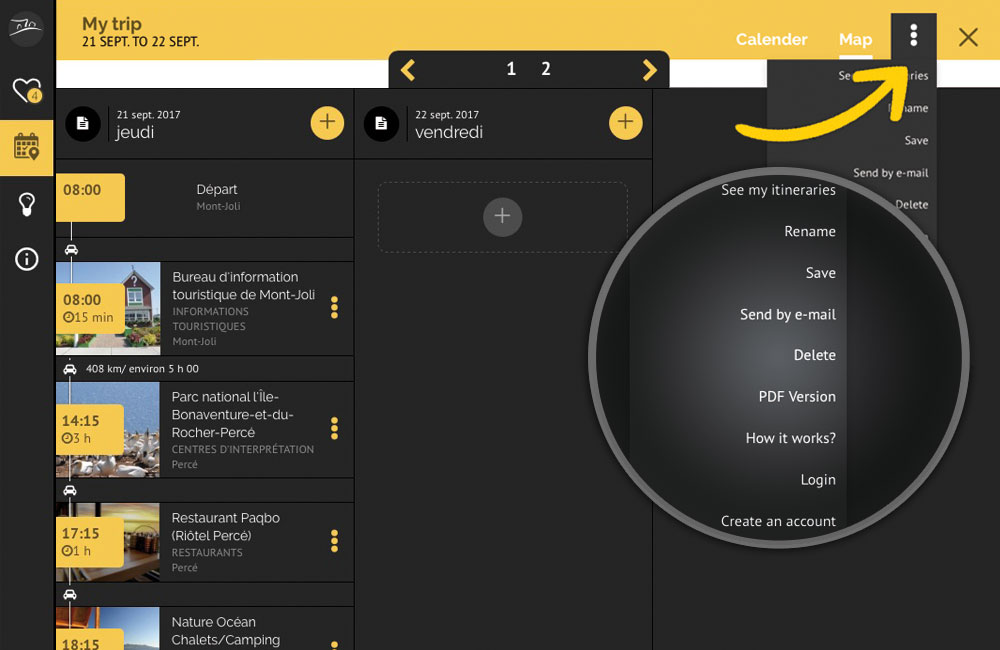 How it Works ?
Access to the Planner
At any time, quickly access to the planner by clicking on .